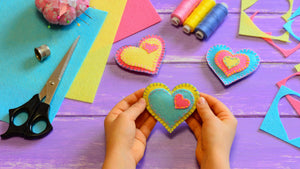 Mini Maker Hand Sewing Fall Session
Regular price $100.00 Sale
Hand Sewing • Fall Enrichment
Ages 5 to 7
4 week sessions  
This listing is to enroll your child in our enrichment program. Be sure to click on the day and time selection.
Here at the Happy Makers our goal is to encourage confidence and creativity. We offer our enrichment program Monday-Thursday. Focusing on the basics of hand sewing, embroidery, and sewing safety. This ensures a well rounded experience for every student. We focus less on perfection and more on the process, with the hope that we help start a creative sewing future for your child for many years to come.
As your child grows to learn the ins and outs of sewing we offer beginner sewing machine workshops once a month making easy to sew fun projects so your child can become familiar with the machines, sewing tools, and patterns.
Our class is held once a week with the first and last 5 minutes dedicated to work area set up and clean up for a duration of 4 weeks. All materials/trim and supplies are provided to use in the studio. 
Class schedule:
Thursday: 11/13, 11/20, 11/27, 12/4
What's provided:
MATERIALS • All materials are included in the class fee; kids are welcome to bring their own material of their choice or use what Happy Makers has provided. 

TIME • 1.0 hours classes x 4
COST • $80 = $20 x 4

TEACHER • Marissa Lopez is a former student of FIDM with a major in Fashion Design and has worked in a school setting at Mesa Union and Ventura County School District. She has a real passion for teaching and all things sewing! Her patience and enthusiasm will have you laughing, learning, creating, and becoming a true maker!
Happy Making! 
• Class minimum is 4 students. Class maximum is 6 students. Class is subject to being canceled due to low enrollment. 
If you would like more information on our homeschooling program or for small birthday party's please email us @ HappyMakersStudio@gmail.com