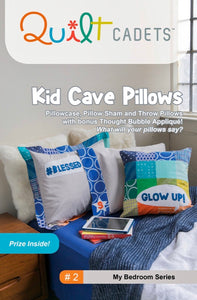 Quilt Cadets Pattern #2
Regular price $18.00 $16.00 Sale
The Kid Cave Pillow #2
Quilt Cadets Patterns are specially designed for children who sew! These fun patterns are ideal for confident beginners to intermediate kid sewists. This pattern from the series is called the Kid Cave Pillow. 

The Kid Cave Pillows pattern lets you make your Kid Cave (Bedroom) uniquely yours with pillows, pillows and more pillows! It includes a pattern for a pillowcase, a sham, and a throw pillow. Included with each Kid Cave Pillow Pattern are thought bubble applique templates.
Each Quilt Cadet Pattern has a prize inside!
Skill Level: Confident Beginner