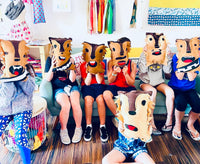 LET'S MAKE STUFF!
SHOP SEWING MACHINES & SUPPLIES
Happy Makers Studio
WE'VE MOVED!!
Located in Camarillo, CA
Monday - Thursday: 2pm-7pm
Friday - Saturday: Closed
Sunday: 9am - 5pm
Make Friends + Make Things = Happy Makers
At Happy Makers Studio, our goal is to encourage confidence and creativity. We offer after school enrichment programs Monday-Thursday. Focusing on the basics of sewing and learning not only the ins and outs of sewing, but, also machine use and safety. This ensures a well rounded experience for every student. 

We focus less on perfection and more on the process, with the hope that we help start a creative sewing future for your child for many years to come.