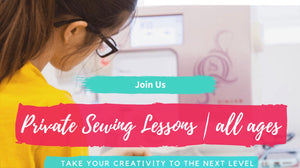 Private Lessons One-On-One
Regular price $45.00 Sale
One-on-One Sewing Lessons are available on Tuesday, Thursday or Sunday. Please email to schedule a lesson. 


Description: Book a private one-on-one sewing lesson to learn and sew at your own pace in a relaxed and friendly environment.  Lessons can be tailored to meet your own personal sewing goals, and can range from getting to grips with your sewing machine to making a cushion cover or understanding how to read and use a commercial dressmaking pattern and complete a garment.  
What to bring: We provide all the required sewing tools and equipment. You are welcome to bring your own sewing machine although these are provided at the studio. Depending on your chosen project you will be required to provide your own fabric and dressmaking pattern although we'll be pleased to offer you a 10% discount on anything purchased from the studio or online shop.

Private lessons: 1 students 
$45 per 45 minutes per class
Semi Private lessons: 2-4 students 
$35 per student 60 minutes  per class
Group lessons: 5-7 students
$25 per 75 minutes per class
Prior to booking and purchasing if you have any questions OR would like to form a small group please contact us at HappyMakersStudio@gmail.com