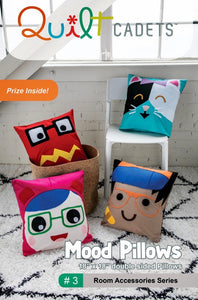 Quilt Cadets Pattern #3
Regular price $18.00 $16.00 Sale
Mood Pillow #3
Quilt Cadets Patterns are specially designed for children who sew! These fun patterns are ideal for confident beginners to intermediate kid sewists. This pattern from the series is called the Mood Pillow. 

With these pillows show the world what mood you're in! Create one mood on one side and a different mood on the flip side. The pattern has templates to make people, cat faces, and monster faces. It is a double-sided pillow pattern so you can convey your mood on each side.
Each Quilt Cadet Pattern has a prize inside! The Mood Pillows Pattern includes a CD with a variety of applique templates for different moods.
Skill Level: Confident Beginner